Bruce

Bruce

Species:

Debut:

Gender:

Male

Age:

25
Bruce is a character who made his debut in Kirby: Behind the Scenes. He is the owner of the dry cleaning business, Star Cleaners. He is the one who ironically made Dedede and Drawcia enemies during Kirby: Behind the Scenes as he unintentionally mixed up their packages.
Appearance
Edit
Bruce is a large, mint green Waddle Dee with a pear-shaped, peach colored area on his face and his feet are the same color as his face and he has pale pink cheek blushes.
Main Gallery
Edit
Other Artwork
Edit
Personality
Edit
Not much is known about his personality but what has been shown is that he is friendly towards his customers.
Abilities
Edit
Not much is known about his abilities currently.
Kirby: Behind the Scenes
Edit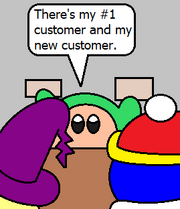 Bruce makes his debut in the series when Dedede and Drawcia come to pick up their dry cleaning from him. Just as he is about to hand their packages to them but he trips and falls on his back, mixing up their packages. He unknowingly hands Dedede's dry cleaning to Drawcia and Drawcia's dry cleaning to Dedede. He hasn't been seen physically since then.
Kirby: Behind the Scenes 3: Chronicles of Darkness
Edit
Waddle Dee confirmed that Bruce survived the earthquake that destroyed Waddle Dee Village.
Relationships
Edit
Bruce seems to have a good relationship with Dedede as Bruce calls him his #1 customer.
He is the first Big Waddle Dee to appear in the series.
He wasn't named at the time of his introduction as he was given a name recently.