Kyle's Fortress

Kyle's new Fortress

Debut:
Kyle's Fortress is where Kyle lives as now due to that he left his hometown after the murder of his parents that he unintentionally committed due a Nidoo that possessed him. It first appeared in Chapter 8 of Kirby: Behind the Scenes 2: Drawcia's Return and Revenge.
Appearance
Edit
When it first appeared, it was a flying fortress with a lot of anti-aircraft cannons and large propellers to keep it into the air. However, unknowingly to Kyle, it was very fragile and couldn't take damage very well. It was eventually destroyed.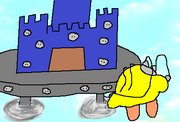 In Kirby: Behind the Scenes 4: Dimensional Spheres, Kyle will eventually get a new fortress.
Inhabitants
Edit