Macky Dee was the wife of Dr. Waddlesworth and his nurse. She made her debut via a photo in Chapter 9 of Kirby: Behind the Scenes 2: Drawcia's Return and Revenge with a young Waddle Dee.
Appearance
Edit
In life, Macky was a yellow Waddle Dee with a peach, pear shaped area on her face, pink cheek blushes and orange hair that she often tied into a ponytail. Her feet were the same peach color as her face. She wore a nurse's hat when she was working. As a Wapod, she looks pretty much the same but she now has a ghost tail instead of feet.
Main Gallery
Edit
Other Artwork
Edit
Personality
Edit
Abilities
Edit
Currently, not much of Macky Dee's past is known. She died of natural causes 11 years before the series began.
Kirby: Behind the Scenes 2: Drawcia's Return and Revenge
Edit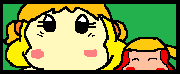 Macky makes her debut in the series via a photo in Dr. Waddlesworth's office in Chapter 9.
Relationships
Edit
She is the first deceased grandparent of a main character.
Despite being deceased, she is the 3rd member of the Dee family to be seen in the series.
Ad blocker interference detected!
Wikia is a free-to-use site that makes money from advertising. We have a modified experience for viewers using ad blockers

Wikia is not accessible if you've made further modifications. Remove the custom ad blocker rule(s) and the page will load as expected.