Marsha Meryl is a character who will make her debut in Kirby: Behind the Scenes 4: Dimensional Spheres. She is the daughter of Roy Meryl, a veteran of the Dark Matter Cataclysm, and Rosemary Meryl and she is Amelia and Larry's older sister.
Appearance
Edit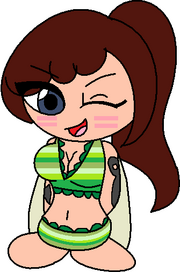 Marsha is a Fairy with crimson hair that is tied into a ponytail by a brown scrunchy, she wears a dark green shirt with white buttons and a pocket on the left side, she wears moss green pants, orange shoes on her feet and two grey wristbands around her wrists. She has navy blue eyes and very pale green wings.
She wears two grey tattoos on her arms: on her right arm she has four pointed star and on her right arm she has a snake on it. She is also noticeably well endowed and her cheek blushes are very distinctive with them being pink and resembling war paint. These cheek blushes seem to run in her family as her father, sister and brother have them as well.
Though never likely to be to be seen in the series, Marsha wears a bra and panties that has various stripes of green. She also has another pair of bra and panties with the same light green laces but are a dark green in color with lighter green dots to represent grenades.
Originally, Marsha was going to have holes in her wings and her shirt was camouflaged with a pocket on the left side that has green, light green, forest green, mud brown and tannish brown spots on it.
Main Gallery
Edit
Other Artwork
Edit
Personality
Edit
Abilities
Edit
When Marsha was 16 years old, she asked her father about the Dark Matter Cataclysm and she heard about how strong and skilled Derin was and how well he and Raymond got along then became friends and about how Dark Matter was finally defeated. She decided to follow her father's footsteps and she joined the Ripple Star Army along with her younger brother, Larry.
Kirby: Behind the Scenes 4: Dimensional Spheres
Edit
Marsha will make her debut in this installment of the series.
Relationships
Edit