Mimi Maplanski is a character who made her debut in Chapter 14 of Kirby: Behind the Scenes 3: Chronicles of Darkness. Mimi is a citizen of Dreamtropolis and she is one of Dedede's closest friends from his childhood years.
Mimi is the daughter and only child of Robert and Barbara Maplanski.
Appearance
Edit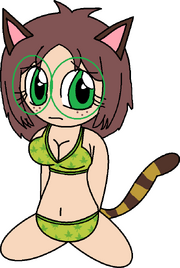 Mimi is a Keke who has peach skin, brown hair that is shoulder length with two strands of hair on top of her head, green eyes, brown ears with pink inner ears and a tail that striped in a brown and tan repeating pattern.
Main Gallery
Edit
Other Artwork
Edit
Personality
Edit
Abilities
Edit
Kirby: Behind the Scenes 3: Chronicles of DarknessEdit
Mimi made her debut in Chapter 14 where she was seen watching TV with a rather unamused expression on her face
Relationships
Edit
Dream Warriors
Edit
Mimi is the first Keke shown to have a tail in the series.
Mimi and her parents are some of the few characters in the series to have their surname known.
Ad blocker interference detected!
Wikia is a free-to-use site that makes money from advertising. We have a modified experience for viewers using ad blockers

Wikia is not accessible if you've made further modifications. Remove the custom ad blocker rule(s) and the page will load as expected.