Paintra is a character who was first mentioned in Chapter 14 of Kirby: Behind the Scenes 3: Chronicles of Darkness by Drawcia. She is a child of Merlin and Shauntele, the younger sister of Kyle and the second oldest of the fraternal triplet sisters consisting of Drawcia, Paintra herself and Claycia.
She was inspired after and named after the Paintra from the games.
Appearance
Edit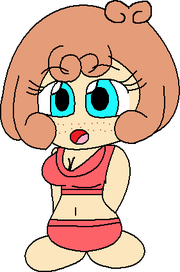 In terms of her design, Paintra looks similar to the Paintra from Kirby: Triple Deluxe. She has light brown hair, blue eyes much like her sister and pale peach skin. Her hair ends in curls and she has two cowlicks on top of her head that is usually hidden due to her hat.
She wears a red robe with gold rims and it has a collar and buttons that are the same gold color as the rims. Her hat is red like her robe with a gold rim and it points straight up. She wears pink shoes. She has freckles face and cheek blushes on her cheeks. Though very highly unlikely to appear in the series, Paintra wears a pink bra and panties under her robe. Much like many of the humanoid female characters in the series, Paintra is well endowed.
Paintra's beta design is nearly identical to her current one except she had curly hair and wore a green robe with a matching hat that had a ball on the end of it's tip. She also wore white shoes.
Main Gallery
Edit
Other Artwork
Edit
Personality
Edit
Paintra is the opposite of her sister is nowadays in terms of personality. She is more calm, friendly and she is usually seen in a happy mood. She rarely loses her temper. When she does lose her temper, she can be as foul-mouthed as her sister is and she will often throw stuff at you.
Abilities
Edit
Much like her older sister, Paintra's magic theme is paint and she has many of the same paint-related abilities as her sister does.
Kirby: Behind the Scenes 3: Chronicles of Darkness
Edit
Paintra will make her debut in this installment of the series.
Relationships
Edit