Saundra

Saundra

Species:

Debut:

Gender:

Female

Age:

20
Saundra is a character who made her debut in Kirby: Behind the Scenes 3: Chronicles of Darkness and she was a member of the Salt Army until the army disbanded after the demise of Gobi.
She later became a member of the Dream Land Royal Army in Chapter 14 along with Lyle, Lancesten, Gregory, Miles, Saba and Zeena.
Appearance
Edit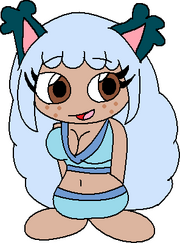 Saundra is a Keke with icy blue hair, tan skin, 3 dark tan freckles under her eyes and brown eyes. She wears a dark lavender robe with light lavender rims, she wears a lavender scarf around her neck, her hat is light lavender with a lavender rim and a dark lavender star in the middle of the rim. Her shoes are dark lavender like the star on her hat. Her ears, which are blue, have 3 tips and they are hidden under her hat and with her hat on, she can be mistaken as a Wizendren.
Originally, Saundra was going to have black hair and red eyes. She has the same hat and robe she does now except it was red with orange rims, a orange star and she wore orange shoes. Her ears were dark red and she originally had a tail that was colored like her ears. She also had whisker-like marks on her face, which was actually just make up on her face to make her look like she had whiskers.
Main Gallery
Edit
Other Artwork
Edit
Personality
Edit
Not much of Saundra's personality has been seen so far but she seems to dislike arguments as she told Hector and Zeena to knock off their arguing.
Abilities
Edit
Kirby: Behind the Scenes 3: Chronicles of DarknessEdit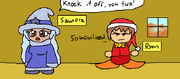 Saundra makes her debut in Chapter 13 where she is seen telling Hector and Zeena to stop fighting but she is then threatened by Hector to stay out of his and Zeena's argument.
Relationships
Edit
Saundra is the first Keke to appear in the series as well as the first female Keke to appear.
Saundra is the second female antagonist to appear in the series, she shares this with Saba and Zeena.
Ad blocker interference detected!
Wikia is a free-to-use site that makes money from advertising. We have a modified experience for viewers using ad blockers

Wikia is not accessible if you've made further modifications. Remove the custom ad blocker rule(s) and the page will load as expected.